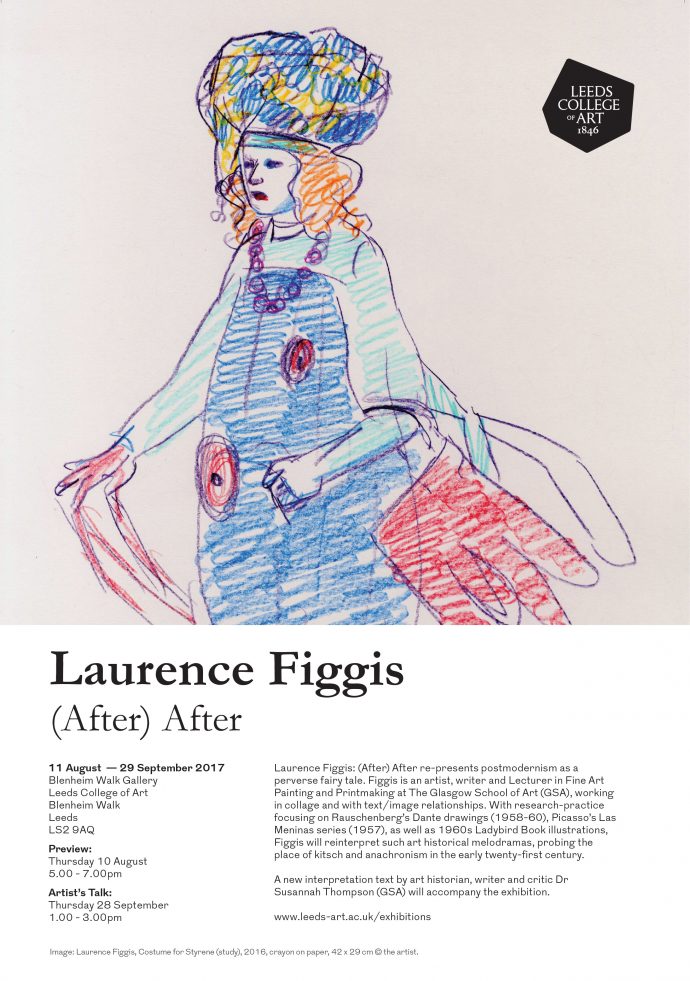 Winter 2017: 'Bad Retail': Laurence Figgis will contribute a new piece of fictional writing to Journal of Writing in Creative Practice, a special edition guest-edited by Susannah Thompson and Laura Edbrook
Friday 11th August – Friday 29th September 2017: '(After) After': Laurence Figgis presented new work in a solo exhibition at the Blenheim Walk Gallery, Leeds College of Art
Further Reading
Adam Benmakhlouf: Review of Laurence Figgis: ANYKENT
Trying the door like an opportunist burglar, Laurence Figgis's ANYKENT exhibition at The Briggait is locked. Across the road, there are the same empty shop fronts of Macleod Highland Supplies Kilt Shop, Theatre Nemo and POSTER AND BANNER PRINTING. Just the right backdrop for what at first looks like post-destall detritus. Wooden stretchers are cast aside and leaning alongside an open sketchbook and torn papers. READ MORE
Kenneth Davidson: Review of Laurence Figgis: 'Hugs n Fun-Fun': New Works on Paper
In the Glasgow Project Room at 103 Trongate, I Met Laurence Figgis while his exhibition was being documented by a photographer. I introduced myself and we looked out across the street through the gallery's windows to where a Glasgow city centre, seven-storey, 1920s (Goldbergs / and latterly, What Every Woman Wants) department store is being demolished.  (Selfridges is developing the site now). – I visited the exhibition the previous day.  Laurence Figgis, Hugs n Fun-Fun, New works on paper.  I went back to get some photos. – We chatted quite quickly.  At the door, a handout sheet of A4, the exhibition notes, carried the list of the titles of the 19 works. READ MORE
Susannah Thompson: 'The Female Sea: Notes on Distressed Genres'
William Burges' bedroom was famous for its monstrous frieze: mermaids and sea-monsters writhed and grimaced in and out of a Gothic arcade. It was here in his Scarlet Chamber that Burges played out the last act in his High Victorian Dream. To share these fantastic dreams demanded a willing suspension of disbelief and a taste for catholic collage.
The ensemble cast of the Great MacGuffin could almost be the anthropomorphic players of a million Burgesian trophies (the fish plates of Lord Bute; a bronze table with cloven feet; a claret cup in the form of a sphinx). A fellow lover of fairytales, Figgis, like Burges, underlines the infinite flexibility of historicist modes, with a 'distinct, sharp, and wirey' wit. READ MORE
Nick Evans: 'Theatre of Admin'
Spinning out of the somewhat generic conditions of the 'social dialectic' are sets of concerns specific to particular artists.  Alex Pollard, in a talk he gave at the Talbot Rice gallery in Edinburgh in February 2004, flashed up images of the work of Laurence Figgis, Iain Hetherington, and Alan Michael. The works in question: Theatre of Admin (Figgis 2003), Man Playing Air Guitar in His New Clothes (Hetherington 2004)and Misty in Roots (Michael) all share in common a critique of the bureaucratisation of culture and insidious managerialism.  These works parody existing structures and systems of representation, using quiet subversive humour to undermine cultural assumptions and hierarchies. Thus Figgis's Theatre of Admin poses as a Richard Hamiltonesque pop-collage. READ MORE
Acknowledgements
Thanks to Patricia DeVries of deFreeze for her consultation and advice and to Alan Dimmick for photographing many of the artworks on this site.