Published:
The Great Macguffin: limited edition fold-out poster, 2009 (exhibited/ distributed @ 'The October Show', Transmission Gallery, Glasgow, 13th October – 7th November 2009)
---
Recited (for a live audience):
'Prawns Pee' (events), The Old Hairdresser's Glasgow, 2nd May 2012
'Silence: a Semiotics of Insignificance', University of Liverpool, 2nd July, 2015
---
Laurence Figgis, The Great Macguffin, 2009, fold-out poster, digital print on paper, 1/100, 59.4 x 84 cm
---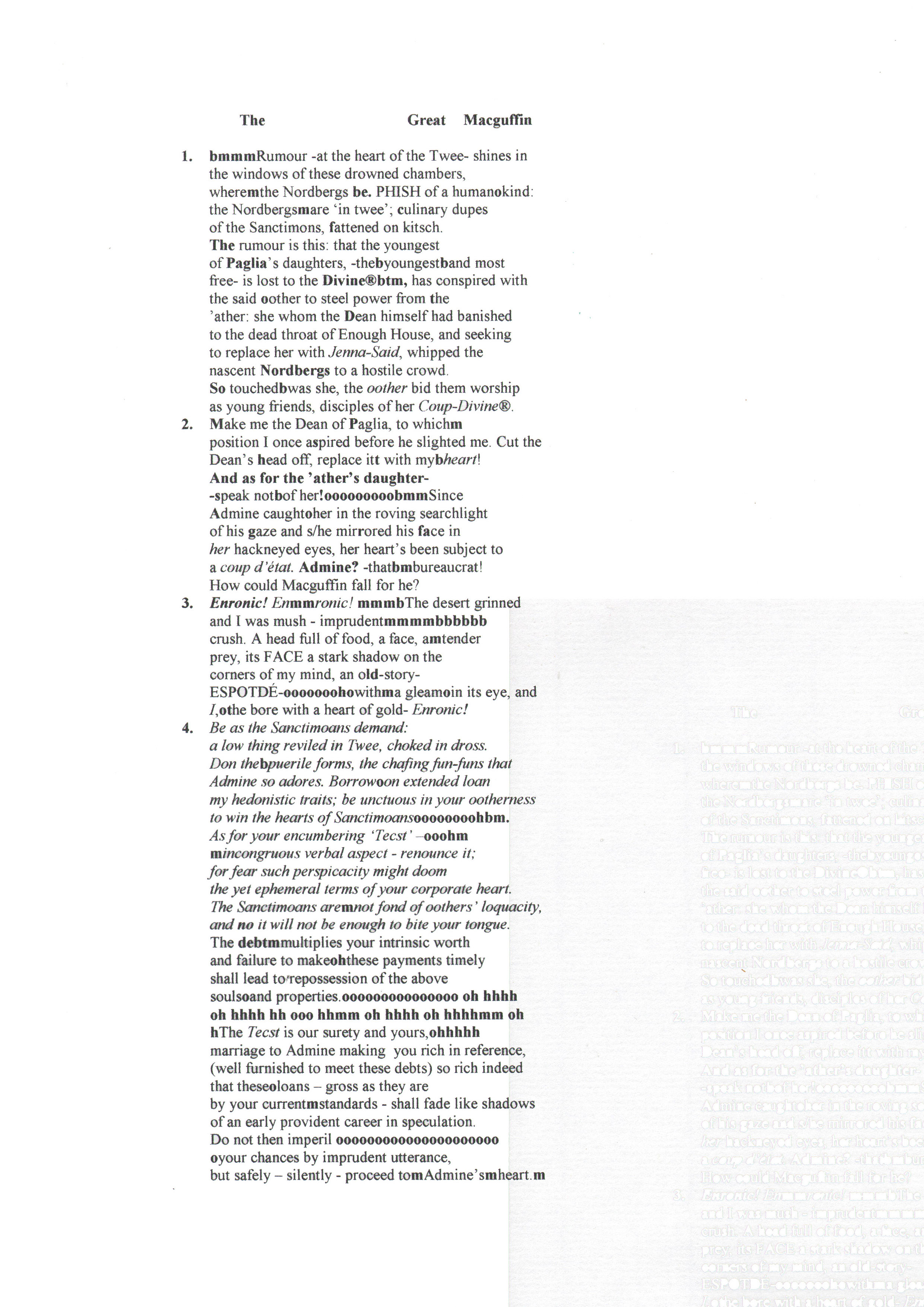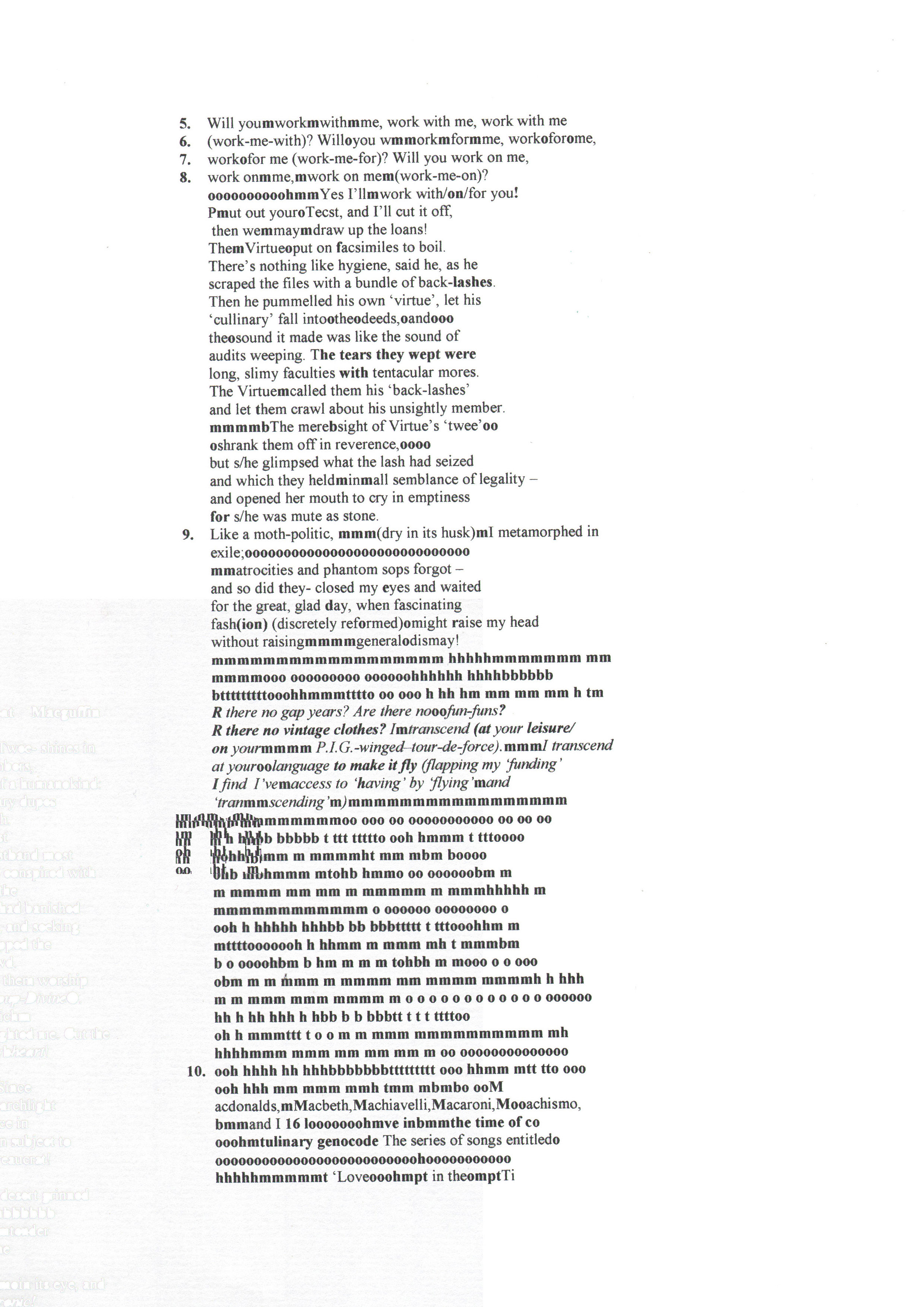 ---
Laurence Figgis, The Great Macguffin, live recitation for Prawn's Pee events, 2012
---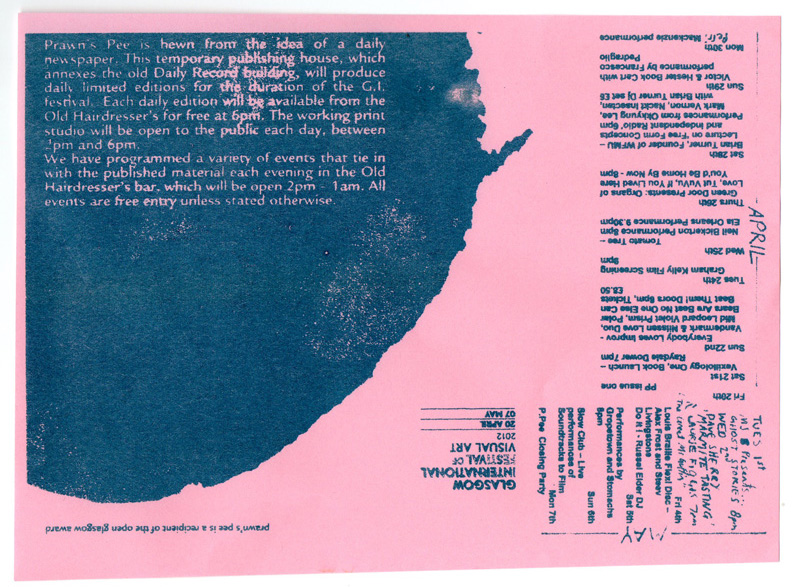 ---
Laurence Figgis, The Great Macguffin, live recitation for 'Silence: A Semiotics of Insignificance', 2015
---

---
Text:
---
Rumour! At the heart of the Twee—shines in
the windows of these drowned chambers
where the Nordbergs be. PHISH of a human kind:
the Nordbergs are 'in twee'; culinary dupes
of the Sanctimoans, fattened on kitsch.
The rumour is this: that the youngest
of Paglia's daughters—the youngest and most
free—is lost to the Divine, has conspired with
the said Oother to steal power from the
'ather: she whom the Dean himself had banished
to the dead throat of 'Enough House', and seeking
to replace her with Jenna-Said, whipped the
nascent Nordbergs to a hostile crowd.
So touched was she, the Oother bid them worship
as 'young friends,' disciples of her Coup-Divine.
'Make me the Dean of Paglia, to which
position I once aspired before he slighted me. Cut the
Dean's head off, replace it with my heart!
And as for the 'ather's daughter —
speak not of her! Since
Admine caught her in the roving searchlight
of his gaze, and s/he mirrored his face
in her hackneyed eyes, her heart's been subject to
a coup d'état. Admine! That bureaucrat!
How could the Macguffin fall for he?'
Enronic, Enronic! The desert grinned,
and I was mush—imprudent
crush, a head full of food, a face, a tender
prey—its FACE a stark shadow on the
corners of my mind, an old-story-
ESPOTDÉ—with a gleam in its eye—and
I, the bore-with-a-heart-of-gold –Enronic!
'Enronic! Enronic!
Be as the Sanctimoans demand:
a low thing, reviled in Twee, choked in dross,
don the puerile forms, the chafing fun-funs that
Admine so adores—be unctuous in your ootherness
to win the hearts of Sanctimoans.
As for your voice—renounce it—
for fear such perspicacity might doom
the yet ephemeral terms of your corporate heart.
The Sanctimoans are not fond of Oother's loquacity:
and no—it will not be enough to bite your tongue!
The debt multiplies your intrinsic worth,
and failure to make these payments timely
shall lead to repossession of the above
souls and properties. Do not then imperil
your advance with imprudent utterance,
but safely—silently—proceed to Admine's heart.'
'Will you work with me, work with me, work with me?'
Yes I'll work with/on/for you—only take the plus 
out of Admine, make his enronic figure mine,
all mine –I want to be his bride! Where shall I sign?
'Sign here!' said the Monster of Virtue.
'Or have you lost your nerve?
Put out your text, and I will cut it off—
then we will draw up the loans'.
'There's nothing like hygiene,' said he, as he
scraped the files with a bundle of back-lashes.
Then he pummelled his own virtue, let his
'culinary' fall into the deeds, and
the sound it made was like the sound
of audits weeping. 'Now!' said Virtue.
'If the Lash should seize you as you go
back through the Twee…' For his house
was built upon the multiplying legions
of that many-fingered force. Their bodies were
long slimy facilities with tentacular mores.
The Virtue called them his 'little chicks'
and let them crawl about his unsightly member.
Macguffin was terrified—quite needlessly, for
the mere sight of Virtue's blood
shrank them off in reverence;
but s/he glimpsed what the Lash had seized,
and which they held in all semblance of legality
and opened her mouth to cry in emptiness,
for she was as mute as stone.
Like a moth-politic (dry in its husk), I metamorphed in
exile, atrophied in phantom-form, forgot—
and so did they—closed my eyes and waited
for the great, glad day, when fascinating
fasc(ion)ism (discreetly reformed)might raise its
head—without raising general dismay!
In just such a morbid thing of chic has Jenna-
Said encased my vicious text, and I am
fighting to retrieve it with the aid of brightly-
coloured, verb-like creatures, that swoop down
and smash the thing to bits. I am laughing and
dancing with the thought of death always in my
heart, gazing westward to a tinted dusk I know will
be my last. I see the Huck-Finn-of-the-Transcendence
floating past—He waves at me—I wave back. 'Macguffin,
you are my great friend, I cannot comprehend your
lack of joy! Will you not follow my example? Come!
Spread your trust-funds wide—you have wings on
which to soar above the blood-soaked body of the bride!
Are there no fun-funs? Are there no Jenna-Said?
Are there no vintage signs? I transcend at your leisure,
on your pig-winged tour-de-force, I transcend at your
language—to make it fly—for all the ages,we have only
had access to having by flying and transcending!'
Then the sun broke down upon the Twee,
floated up the remaining Nordbergs,
their white hearts
shining through the murky depths.
Their voices were melodious.
Sisters! cried s/he. 'We bear the sad tidings
of the Oother's loss!'
Demise? I thought the Oother had survived.
'Wrong! It was the Dean (acquitted by the Lash)
who now sits
on Virtue's right-hand-side, eating kitsch and
stuffing his fad-face with their cries.
We saw the Oother torn to bits, clouds of excremental kitsch
flooding the ruins of her nerve like blood,
while the Fun-Funs shouted—Kill! Kill! Kill the
Divine!'
In which Macguffin dissolves, fading in Admine's
repentant clutch,
falling into screaming words, scattered on the surface of the Twee,
rolling to coalesce in spots of sense, here and there,
only fragments of a self-pitying dirge:
Paglians, tell them I was duped!
I saw his ghost  in laminate,
and, through a glass blandly, he looked so benign.
Paglians! Show them the tomb they made of my bride.
There is a violence—where there is no dissent,
there is a violence—where no sound of protest 
shall ever be,
in the pious stomach under the cold,
dark Twee.
---